Mrs Wolski, our fabulous music teacher, has been busy knitting hearts for a campaign called 'Hearts for Hospitals'.
Mrs Wolski and her daughter decided to put their knitting skills to good use to spread some love by creating hearts for patients and their relatives during the coronavirus outbreak.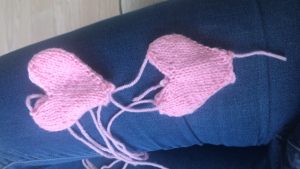 As visiting is severely restricted across hospitals, staff are giving patients and their loved ones matching fabric hearts to help them feel connected and loved.
Mrs Wolski said, "We wanted to do something positive to make a difference and decided to make hearts. We hope it can help family members feel like they have an emotional link, and a small token to focus on."
The hearts are quarantined for three days before they are given to the patient, to ensure any risk of infection is minimised. In addition, the hearts need to be put in a bag  in pairs and labelled with the date they were put into the bag.
Hearts can be knitted, crochet, embroidered, fabric or felt, and each heart should have at least one matching pair.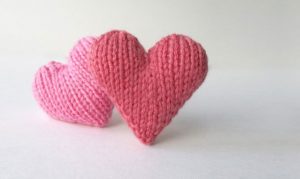 Mrs Wolski has been following the pattern on the following link if anyone is interested in giving it a go!
https://www.ravelry.com/patterns/library/hearts-28
And, if you want to send some in yourself, they can be mailed to:
Fiona Murphy, Associate Director of Nursing
Northern Care Alliance
Room 133, Trust Headquarters,
North Manchester General Hospital
Delaunays Road
Crumpsall
M8 5RB