During lockdown, Evalyn wanted a personal challenge and decided to take part in the World Ocean Day Virtual 5K. The Wilmslow Prep pupil loves the sea, beaches, and going to the aquarium – she even had a behind the scenes tour at Manchester Sealife for her most recent birthday.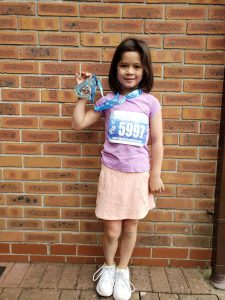 Evalyn's mum said, "Evalyn had fun completing the 5K, and as a bit of educational opportunity, we used it to research World Ocean Day. Evalyn produced a fact sheet that she shared with her classmates during one of their online lessons."
As Evalyn's dad is in the Navy, he often sends her pictures of the sea and dolphins when he goes away. He has recently completed a 5K run and Evalyn wanted to complete one together with him.
Miss Shaw, Evalyn's teacher said, "I am incredibly proud of Evalyn – she will be able to look back at her lockdown experience with pride for so many reasons- what an incredible achievement!"