The NHS needs our help more than ever, and we are so proud of both Enid Colyer and Jill Sparrow who are making homemade scrubs for NHS workers.
Enid, one of our fabulous HLTAs here at WPS has made some scrubs for Leighton Hospital and will be making more during the week.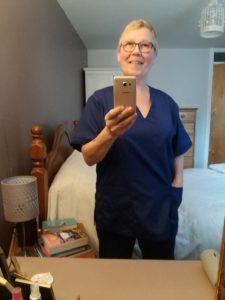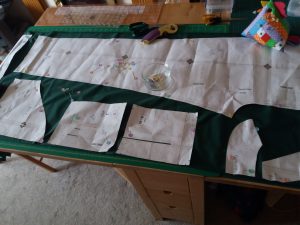 Jill, a former HLTA and a highly valued, regular supply teacher for the School has been sewing scrubs for Macclesfield General Hospital.  Jill was contacted by a friend from her Bridge Club who was able to provide material for Jill. She also picks up and drops off materials at other Wilmslow addresses (all with appropriate social distancing measures).
Jill has made made scrubs in green, peach and a rather lovely blue and white check!
Here is a photo of Jill's scrubs being held up by her daughter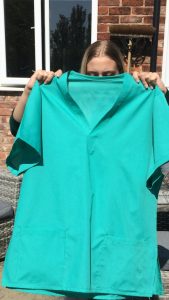 Helen Rigby, Headteacher commented on their efforts, saying "It is so wonderful to see our staff, students and formal pupils doing what they can to make a positive difference for key workers and front line NHS staff during this pandemic. This is like nothing we have experienced before, but we are all so proud of Enid, Jill, and our extended WPS family for doing what they can in these uncertain times."